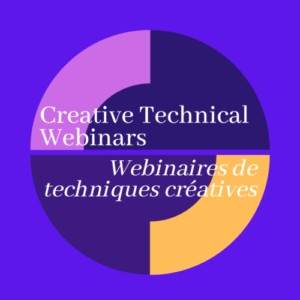 CARFAC Maritimes is so pleased to offer its 2022 winter "CREATIVE TECHNICAL" webinar series starting on February 27th, 2022! The webinar program was started in 2021 where we offered a total of 9 webinars based on a membership consultation earlier that year. These webinars are meant to address concerns, answer questions, educate and instruct; the presenters are professional artists with substantial knowledge, expertise and experience. On top of that, the webinars create an opportunity to get to know other CARFAC Maritimes' members and network among attendees.
---
---
May 15, 2022, 1:30 – 3:30, on ZOOM : Studio Safety and Design for artists with Carley Mullally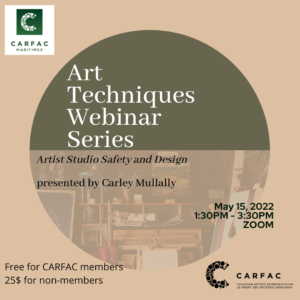 Whether using a shared space, participating in an artist residency or setting up a professional home-studio, there are important health & safety considerations that all artists must consider regardless of their medium. Knowing how to prepare one's working space can aid in setting up the optimal studio for both short and long-term use. In this webinar, common health & safety requirements, short and long-term health management and equipment/set up recommendations will be covered. There will also be opportunities for questions and discussions.

*Host description:
Carley Mullally is a professional textile artist, educator and technician working across Nova Scotia. With experience in industrial studios, factories, universities, residencies and home studios, she has knowledge of a variety of studio set-ups and safety considerations. Most recently she has been working as the Fashion Technician at NSCAD University, where she maintained a studio space used by students and faculty during the COVID-19 pandemic.