CARFAC Maritimes is proud to present its 2023 "CREATIVE TECHNICAL" webinar series. Stay tuned as the list is updated…
These webinars are meant to address concerns, answer questions, educate and instruct; the presenters are professional artists with substantial knowledge, expertise and experience. On top of that, the webinars create an opportunity to get to know other CARFAC Maritimes' members and network among attendees.
Please note that these webinars are designed for professional visual artists. They are designed as an information service to provide a summary of issues of interest to visual artists. They are not a substitute for professional advice on your specific issue, should that be necessary. Neither the presenters nor CARFAC will assume responsibility for any problems that may arise from errors or omissions in the presentation.
The webinars are free for CARFAC members; $25 for non members.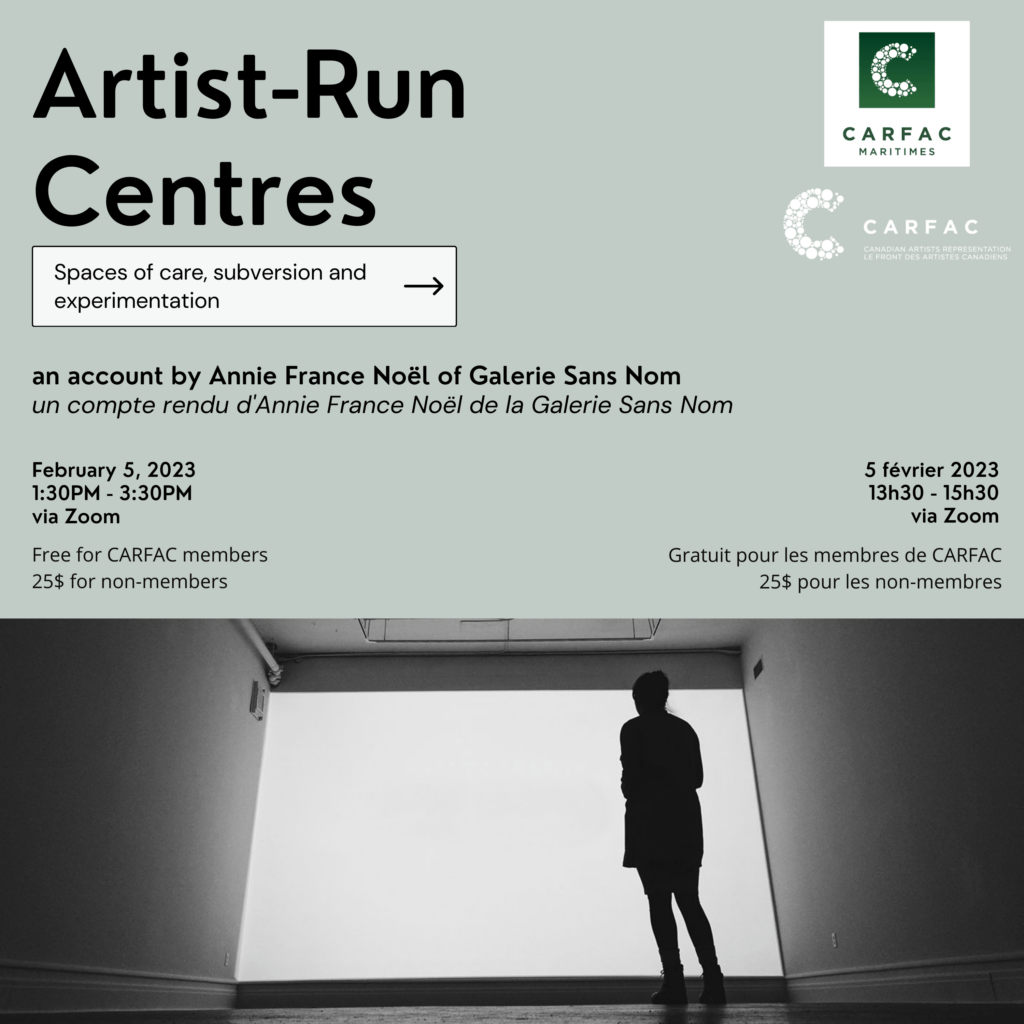 This first 2023 webinar is scheduled for February 5th, from 1:30 to 3:30 on ZOOM. Register here.

Involved in the artist-run community for over a decade, Annie France Noël will recount the emergence of artist-run centres in the 60s, their purpose, who they serve and how you can get involved.

Annie France Noël is a queer Acadian visual artist, photographer and cultural worker. Her practice observes intimate and vulnerable aspects of the human experience through various photographic and interdisciplinary approaches. After taking several photography classes at the Université de Moncton (2007 – 2010), Annie France supported their artistic practice while working as a freelance photographer, server, and eventually as a cultural worker.

Annie France is a dedicated member of the cultural communities she engages with, both at regional and national levels. She notably sits on the Board of Directors of CARFAC National, chairs the Board of Directors of the Aberdeen Cultural Centre (where her studio is located), and is the artistic and administrative director of the artist-run centre Galerie Sans Nom.

Originally from Galaget (Caraquet), she currently lives, mothers, and works as an uninvited guest on the traditional unceded territory of the Wolastoqiyik and Mi'kmaq Peoples / Moncton NB.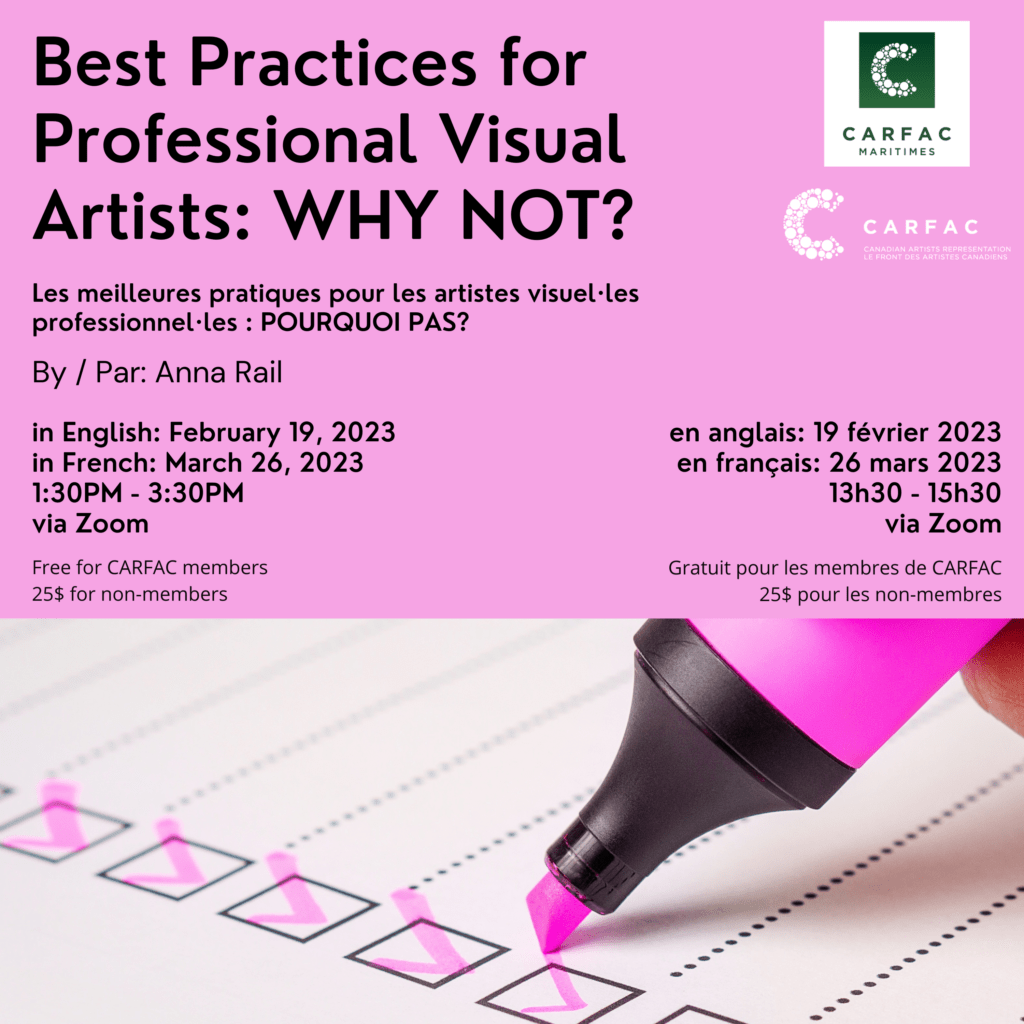 ---
Best Practices for Visual Artists : WHY NOT?
February 19th, 2023 from 1:30 to 3:30 pm (english)
March 26, 2023 (in french)
on ZOOM
Free for CARFAC Members; $25 for non members.
Do you ever wonder what to do or how to act in certain circumstances in your visual art practice? Has probably happened more than once, right? Best Practices provide you with many tips and information that are useful to you every day. They are recommended standards for a professional practice, viable industry standards developed in an atmosphere of mutual respect and agreement, for practical use. They are guidance in areas where regulations or agreements may not exist. The importance of contracts, how to deal with galleries, art commissions, donations etc. will be discussed.
Anna Rail is the Executive Director at CARFAC Maritimes since 2017. A contemporary batik artist herself, she previously worked as an arts and heritage director for the federal government and has been "on the other side of the table" for 15 years! Anna regularly gives presentations on copyright, best practices and other matters to numerous artists in the Maritime Provinces. She is a member of Gallery 12 in Moncton and Batik UK. She lives in Dieppe.
All CARFAC Maritimes webinars are free for CARFAC members; $25 for non members.
Click here to register; click here to become a CARFAC Maritimes member.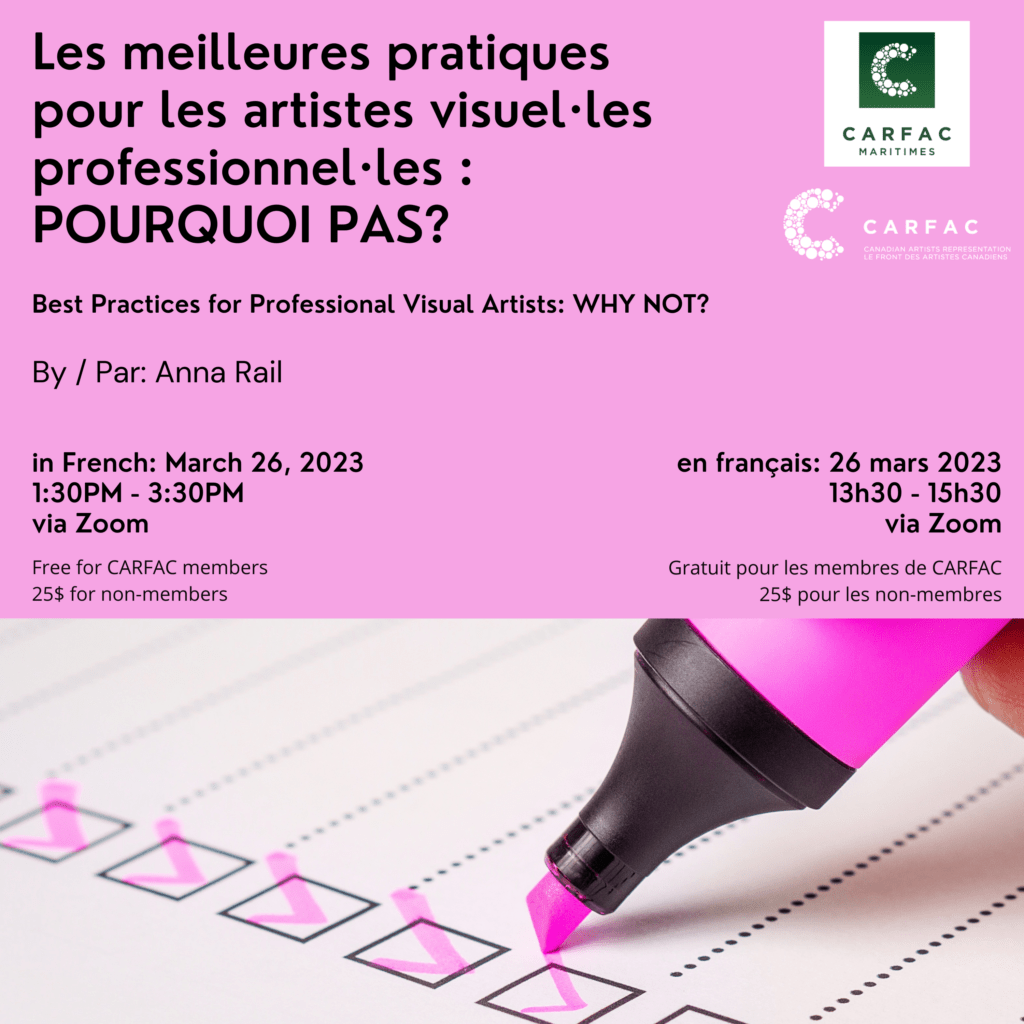 ---
Les Meilleures Pratiques pour les artistes visuel.le.s: POURQUOI PAS?
Le 26 mars, 2023, de 13h30 à 15h30
sur ZOOM
Gratuit pour les membres de CARFAC; 25$ pour les non membres
Vous demandez-vous parfois ce qu'il faut faire ou comment agir dans certaines circonstances dans votre pratique des arts visuels ? Cela vous est probablement arrivé plus d'une fois, n'est-ce pas ? Les meilleures pratiques vous fournissent de nombreux conseils et informations qui vous sont utiles au quotidien. Ce sont des normes recommandées pour une pratique professionnelle, des normes industrielles viables élaborées dans une atmosphère de respect mutuel et d'accord, pour une utilisation pratique. Ce sont des conseils dans des domaines où il n'existe pas forcément de réglementation ou d'accords. L'importance des contrats, la manière de traiter avec les galeries, les commissions d'art, les dons, etc. seront abordés.
Anna Rail est la directrice générale de CARFAC Maritimes depuis 2017. Artiste de batik contemporain elle-même, elle a auparavant travaillé comme directrice des arts et du patrimoine pour le gouvernement fédéral et a été " de l'autre côté de la table " pendant 15 ans ! Anna donne régulièrement des présentations sur le droit d'auteur, les meilleures pratiques et d'autres sujets pertinents à de nombreux artistes dans les Provinces maritimes. Elle est membre de la Galerie 12 à Moncton et de Batik UK. Elle vit à Dieppe.
Tous les webinaires de CARFAC Maritimes sont gratuits pour les membres de CARFAC ; 25 $ pour les non-membres.
Cliquez ici pour vous inscrire ; cliquez ici pour joindre CARFAC Maritimes